Influencer marketing is a method of marketing which focuses on building relationships with influential people in your niche.
Basically, you befriend people in your industry who have a lot of social engagement in the hopes they will help you promote your content and your business.
Influencer marketing has blown up this year. One look at Google Trends shows it's popularity:
Why is influencer marketing so popular?
Simple.
The fact of the matter is, this stuff works.
Where to find influencers
So you know you need an influencer for your content marketing. Great!
But where are they? How do you find them?
Easy… sort of.
There are a few methods to find influencers:
1. Google 'em.
Google is your best friend. All you need to do is search for your niche in Google.
Let's say I'm searching for influencers in the fitness niche. First, I'd search for the top fitness blogs.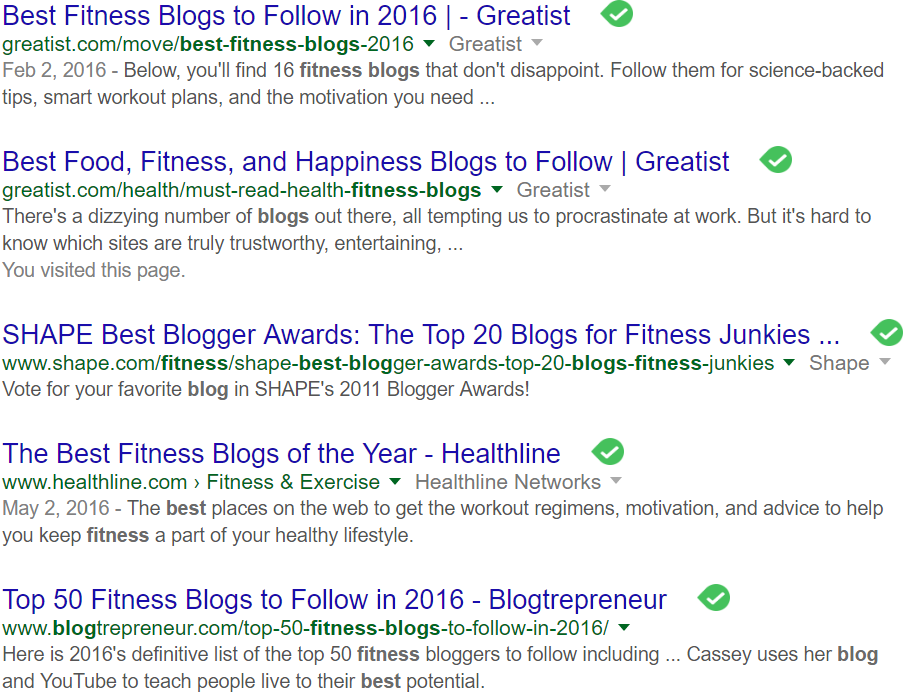 Phew, that's a lot to choose from!
Next, I'll click on those lists and start building a list of influencers in the fitness niche. I like to use Google Sheets to keep track of them all.
2. Use a tool like BuzzSumo
BuzzSumo is a tool that allows you to see the most shared content on the web in your niche. It also allows you to see the people who are having the most influence on that content!

Once you've got your list, it's time to reach out.
How to get an influencer to endorse you
You can't just ask an influencer to endorse your product or share your content without putting in any effort to build a relationship with them. You might succeed, but your success rate will be abysmal and your relationships short-lived.
In order to get an influencer to notice you, you need to interact with them!
Jay Baer (@JayBaer), the founder of Convince and Convert, said it right, "The secret formula to influencer marketing? Don't ask what influencers can do for your brand. Ask what your brand can do for influencers."
[Tweet "Don't ask what influencers can do for your brand. Ask what your brand can do for influencers says @JayBaer"]
Influencer marketing is all about building relationships.
That means going the extra mile by:
Commenting on their social media profiles.
Linking to their content from your blog.
Sharing their content.
Emailing them to let them know how much you love their content.
It's only once you've jabbed at them several times that you should go for the knockout punch.
Once you feel like they know your face, it's time to pitch them an email.
Influencer email pitch
Jay Baer also says that your email pitch "needs specifics, fluffs the influencer's ego, makes the benefits clear and provides a concrete deadline and call-to-action."
Here's an email pitch template you can try from Entrepreneur magazine:
Hi [name],
My name is [your name] from [company]. I've been following your blog since 2013.
Your recent post [blog topic] really resonated with me. I thought it was something my audience would appreciate, so I shared it with my social media and email subscribers.
I wanted to get in touch with you to discuss [topic] further and see if we can work on something similar together.
If you're interested we can set up a phone call this week to discuss starting a collaboration that would bring value to both our audiences.
Best,
[your name]
Keep in mind that your emails should be created uniquely to fit your top influencers.
There's nothing worse than sending someone an email from a template and having them recognize that you're using a template.
In fact, I actually got an email like that today:

He copied a template word for word that I had used myself to attempt to get backlinks to one of my articles! I don't remember where I got the template, but I definitely remember the wording.
I laughed. That post I did was actually a guest post, so I couldn't edit it. But it did turn me off from doing what he said, as it seemed like he didn't care about me or my content and just wanted a link.
Pro tip: The technique he's using here (which I have used myself) is called the skyscraper technique. It works if you do it right. Just be sure to customize your emails a bit more!
Conclusion
Influencer marketing can have a major impact on your business. It's an excellent growth hacking strategy, costs nothing but time and thoughtfulness, and gets results.
So get out there, build some relationships, and get those influencers to help you out!
Want to learn more? Check out this influencer marketing expert roundup.