[fancythemes-notification]Click here to download your free content calendar template now.[/fancythemes-notification]
A content calendar sounds like a great idea in theory…
But is it really worth the effort to put one in place?
Yes. Yes it is.
One of the three building blocks of content marketing is consistency. Consistently publishing content is a requirement if you want anyone to care about what you're doing.
And, let's face it; Being consistent is hard. That's why so many people struggle with it.
But a content calendar makes consistency easier.
What you need to create a content calendar
Creating a content marketing calendar isn't difficult or even very time-consuming. But it is a discipline you need to add in order to see any success.
I couldn't tell you how many times I started a calendar only to stop using it. Spending time with your calendar has to become a habit.
[Tweet "Let's do this: I'm going to create a #ContentMarketing calendar for my #blogging goals!"]
First things first; you need a system to make this easy. I've created such a system for you, which you can download below.
Check your email for your downloads. If you decided not to download them, you can use Google calendar or Trello instead (it'll just take some more time to set up).
How to use your content calendar
Now you've got a system, but it's no good if you don't know how to use it.
Step #1: Commit to a schedule.
First, figure out how often you're going to post. Keep in mind, this could be a blog post, a podcast, a video, or even an infographic.
I recommend posting at least 2-3 times per week if you're just starting out. More than that gets overwhelming, and less than that makes it harder to grow a following.
That said, there are plenty of people who see success posting only once or twice a month. What matters most is quality. (Which, by the way, is the second building block of content marketing.)
Keep in mind, you may want to write on your blog a bit less and focus on guest posting in the beginning to increase your traffic and SEO.
Step #2: Brainstorm some content ideas.
Here's the thing about great content; it's hard to come up with off the top of your head every week. That's why it's important to come up with a bunch of content ideas at once.
You can do this a multitude of ways. I like starting with a brain map to make tons of ideas, then dwindling them down based on keyword research and some extra thought.
You can use Bubbl.us as a free online mind map.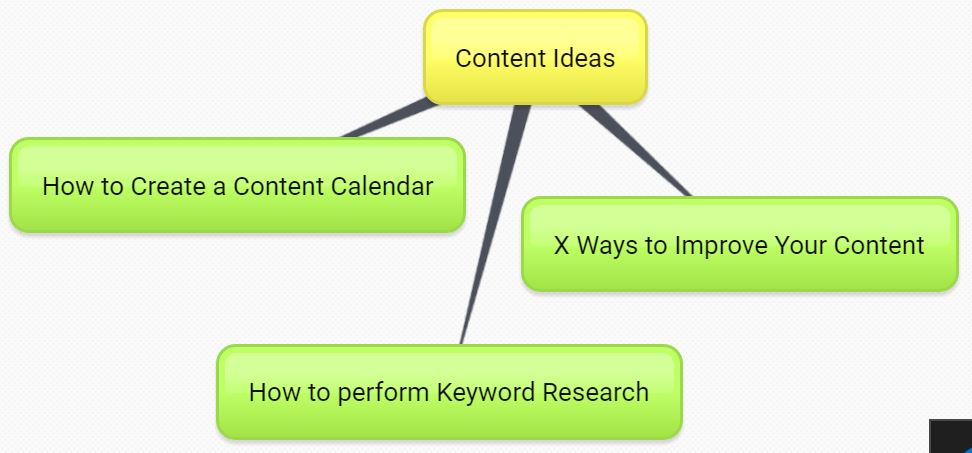 You'll probably find it difficult to come up with ideas at first. But keep putting ideas down, no matter how stupid they sound. The key is to build momentum.
Brainstorming is like a car – it may be slow to accelerate, but once it gets going it's own momentum carries it forward. That's also why you should build a list of ideas at once rather than trying to restart your brain every week stressing about new ideas.
I recommend you come up with at least 30 ideas. The more the better. Remember, not every idea on this list will make the cut.
Step #3: Prune your list of content ideas with keyword research.
Put your hard hat on, you're going to take the role of a gold miner. You want to shift through the dirt to find a couple gold nuggets.
You can use Google Keyword Planner to find which of your ideas are searched for and have the least competition.
I searched for a few keywords and found these results: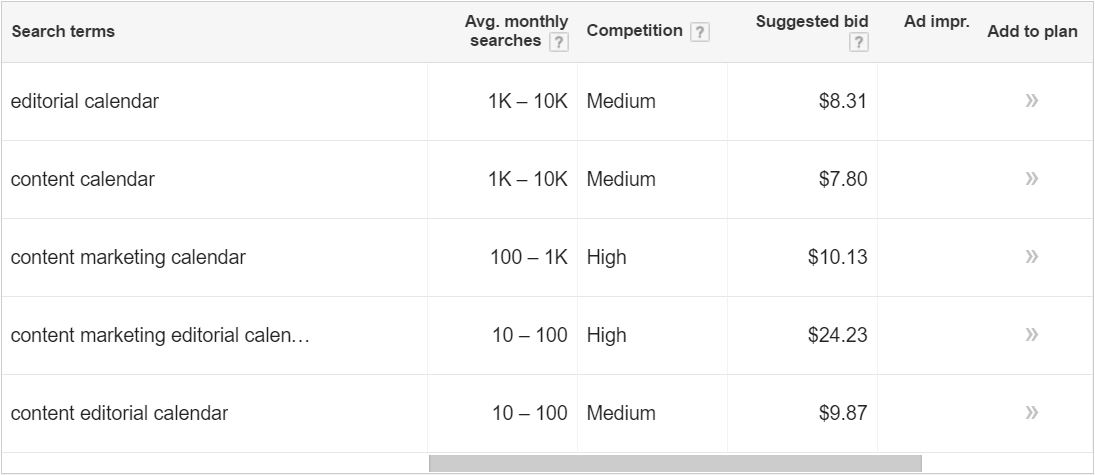 Notice the keyword "content calendar" has 1k-10k monthly views and only medium competition. There is some opportunity here! Based on this, I'd add "How to Create a Content Calendar" to my list of potential posts.
That said, what you really want to look for – the true gold nuggets – are keywords with high monthly search volume and low competition. But you probably already guessed that.
Now, go through all your ideas and search all the keywords you can think of for each one. Also, scroll down and Google will show you similar keywords you may be able to rank for.
Keep in mind that even if a topic won't be easy to rank for, it could still be a good one to write about. Not every post you write will rank well! Keep the ones that seem like a great fit for your audience.
Pro tip: If you're feeling up for a challenge, you can use an advanced tactic. Find your competition and put their blog post URLs into the space that says "Your Landing Page".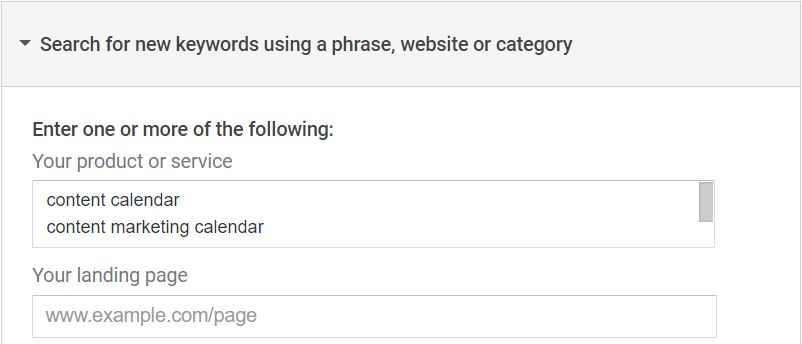 Just because Google says "Your landing page", doesn't mean it actually has to be yours! This will show you all the keywords your competitor's page is ranking for.
Step #4: Put your freshly pruned list into your content calendar.
Now that you have nothing but good potential ideas, start putting them into your content calendar. Fill out the working title, meta description, keywords, etc.
You're probably thinking, "How do I know which articles to post at which times?"
Good question! You don't.
Just kidding. Go for the low hanging fruit first, meaning:
Articles that are easy to rank for based on your keyword research.
Posts you know your audience would absolutely love.
Content that is easy to write or would garner lots of backlinks and shares, such as using the skyscraper technique.
Don't forget to add specific goals to each article! It's impossible to measure the success of a post with no goal.
Some goals you might want to go after include:
Getting backlinks for SEO and traffic.
Gaining email subscribers through a lead magnet or content upgrade. (This post is an example of this – my content upgrade is the template I gave you in exchange for your email.)
Increasing social shares.
Establishing authority and thought leadership in your niche.
Congratulations, you're done!
…Sort of.
Step #5: Start creating content!
Now that you know what you're creating and when you're creating it, it's time to actually start creating!
Don't wait until the week of to write a post or record a podcast. Procrastination is the enemy of success. If you create content in advance, you can schedule to go out on the proper time and never miss a post!
Step #6: Don't forget to promote.
Creating content is only half the battle. In fact, some marketers believe you should spend twice as much time promoting a post as you did creating it.
Effective promotion is the third and final building block of content marketing.
Promoting your content means:
There's more, but I'll leave you with that.
[Tweet "Just made my first ever #ContentCalendar! I'm committed to consistency."]
Conclusion
Content calendars are a great way to keep you organized and consistent, which is important if you're going to run a business.
I hope this guide helped you to create your own content marketing calendar. Should you have any questions, feel free to contact me. I'm more than willing to help you set things up!
Good luck, and happy marketing!
Read Next: How to Format Your Blog Posts for Readability
[fancythemes-notification]Did you forget? Click here to download your free content calendar template now.[/fancythemes-notification]