As small business owners, we wear many hats. We have to try to maximize our income, which involves marketing, content writing, bookkeeping, customer support, inventory management, web design, and even SEO…
…That's a lot to take on.
That last one – SEO – can be an especially daunting task for any business owner.
Most marketers find SEO fixes to be scary. I know I did; after all, it's for the web designer to handle! Oh wait – you are the web designer. So I guess it's up to you.
Don't worry, though. I've compiled a quick and painless list of the top 10 things to fix your SEO in a heartbeat.
10 simple and quick SEO fixes
So, where to start? The first and most obvious step is adding keywords to the proper places that allow for Google and, more importantly, your reader to find your website.
1. Add your keyword to:
A. Your Page Title – Google looks at this, but it's more for your readers.
B. Your Permalink – Pretty obvious one here.
C. Your Headings – Google scans headings first for relevant information about the page.
D. Your Image Alt Text – This one is a little less obvious. Don't make them spammy, simply explain what the picture is while trying to add your keyword in.
E. Your Meta Descriptions – Again, this is more for the reader than Google. However, it is still important because the keyword will appear in bold on Google so the user's can easily find what they're looking for. Here's a nice guide on how to write meta descriptions that sell.
F. Your Article! – I know, this is an obvious SEO fix. But if you don't have at least 1 keyword in your opening paragraph and 2-6 in your body, you're missing out. Go back and check to make sure you have the keyword in the article enough times (but not too many that it sounds obvious).
Now that you have keywords in the right places, the next step is:
2. Get a Google Webmaster Account. (AKA Google Search Console)
By signing up and verifying you site with your Google Webmaster account, you're helping Google to crawl and index your site.This is a slightly more advanced SEO fix, but definitely worth it.
3. Add a Site Map.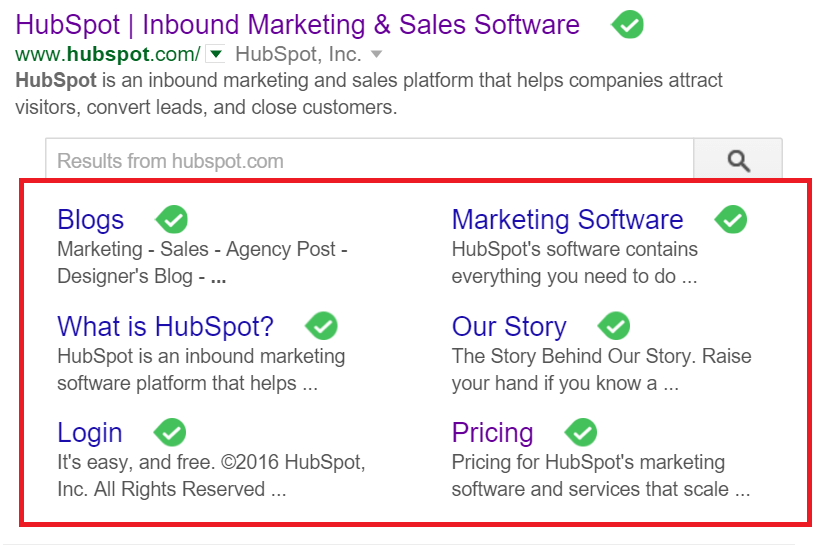 Here's a picture of a site map on Google. This is a much less obvious SEO fix than the keywords. Site maps help Google index your website, allowing it to rank higher while also making it easier for users. No idea how to get a site map? Use this resource.
4. Optimize for Mobile!
If you're still using a website that isn't mobile-friendly, you're going to be left behind real quick. Google announced that mobile optimization will be a large factor in search engine results. Not sure if you're website it optimized for mobile? Use this Google tool. You may need to pick a different wordpress (or whatever platform you're using) theme that is already optimized for mobile, unless you can afford to hire a web designer to rebuild your site. Here's Mojo's opinion on the best wordpress themes.
5. Compress your media.
Big, beautiful HD photos are commonplace now, and for good reason. But these photos are taking up a lot of bandwidth and slowing down your site. Not only is this an SEO fix, it is a quality of life fix for your users. (It's been found that if a site takes longer than three seconds to load, users will hit the back button.) Follow this guide to compress your images.
6. Add links to influential sites.
Google's purpose is to get relevant content to people who need it. If they find that your site is helping them to do that job, they will rank you higher. By linking people to relevant, high-quality content, you are showing Google you're an authority in the matter.
7. Add links to your own site.
By linking back to other areas of your website (Wanna become a goal-crushing badass?), you are helping Google's crawlers to get deep within your site structure. This helps them to index your site and get a clear picture of everything on it, which (you guessed it!) helps you rank higher in Google.
8. Optimize for local search.
If you're a brick and mortar store, you should really look into this.
9. Get some security.
No, we don't mean a body guard. Google now takes SSL certificates in to consideration while ranking for search results. While only a minor effect, it is still an essential SEO fix for those looking to hit #1 for their keywords.
10. Eliminate Duplicate Content.
Google hates duplicate content. By having two of the same anything, you're taking up double the space on Google's servers. Don't do it. Get rid of it.
BONUS!
11. Just make high-quality content.
Most of the SEO fixes listed here are concerning your website infrastructure, which is necessary for high ranking in Google. However, not amount of SEO fixes will help you rank higher if you're creating poor quality content.
Read next: How I create SEO-friendly content
Wondering what to do next?
If you've completed all 11 SEO fixes, try putting your website in the HubSpot Website Grader. They'll tell you how well your website ranks in all these categories and suggest edits specific to your site.
I hope this checklist helps you to get to the first page of Google. If you have any questions, feel free to ask me anything!